Water Jet Service
Our FlowJet Mach 2 offers a cutting table sized 78" x 156". One of the largest in the county!
We can cut steel, stainless steel, aluminum, boron, stone, granite, rock, tile, glass - the list is endless. We can cut material up to 8" thick. Bring in your idea, template, sketch or DXF file and we will create a layout for you enabling sharp, precise finishes to any project you desire.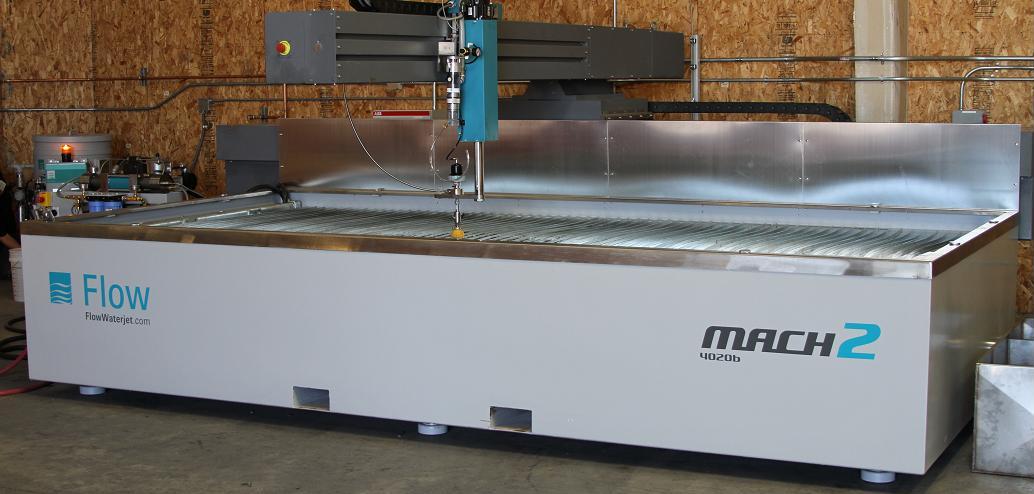 WHY Water Jet?
The Water Jet offers unparalleled precision in tile, stone, rubber, metal, plastic - any solid material you choose. We can produce cuts to .008" tolerance, without a kerf for an accurate fit for machinery parts, artwork, or for your custom application. Tight fitting pieces and close clearances are our specialty.
The Water Jet removes very little material during the cutting operation; this makes the process artwork compatible, enabling your finished piece to be produced within extreme tolerances of any solid material the artist prefers. We can also scribe the work with an image, as well as performing cutting operations as requested.
Producing a finished piece of machinery is one of the best applications for the Flow Jet Mach 2 as the 60,000 psi cutting process does not heat the material, nor does it apply mechanical stresses to the work. Zero contamination to the piece is also a unique benefit. High Definition Plasma and Torch Cutting cannot come close to the precision and fine detail work that a Water Jet is capable of.
Flow International considers their machines to be ' Green Machines '; the entire operation works entirely on electricity and water; no fossil components are consumed neither are any emissions produced.
See the Water Jet in Action via the videos below